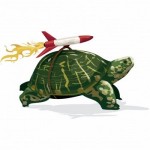 APC, of Alternative PHP Cache, is net als XCache een opcode cacher. Het slaat geparste PHP code op in het geheugen van de server en zorgt er zo voor dat de code niet elke keer opnieuw gegenereerd wordt bij het opvragen van een pagina.
In deze handleiding wordt APC samen met PHP versie 5.3.x geinstalleerd.


Voorbereiding
Allereerst moeten er een aantal pakketten geïnstalleerd worden voordat APC kan werken met Apache:
sudo aptitude install php-pear
sudo aptitude install php5-dev
sudo aptitude install apache2-dev
APC
Installeer APC
sudo pecl install APC-3.1.5
Tijdens de installatie van APC wordt er 2 keer gevraagd om input van de gebruiker. Druk op Enterom het standaardantwoord [No] te accepteren
apc.ini
Na de installatie moet het bestand apc.ini aangemaakt worden.
nano /etc/php5/conf.d/apc.ini
Plak de volgende tekst in het bestand:
extension=apc.so
apc.enabled = 1
apc.shm_size = 128M
apc.shm_segments=1
apc.write_lock = 1
apc.rfc1867 = On
apc.ttl=7200
apc.user_ttl=7200
apc.num_files_hint=1024
apc.mmap_file_mask=/tmp/apc.XXXXXX
apc.enable_cli=1
Sla het bestand op
Herstart Apache
service apache2 restart
Testen
Maak nu een phpinfo.php bestand aan in de root van de webserver
nano /var/www/phpinfo.php
Plak de volgende tekst in het bestand:
<?php phpinfo(); ?>
Sla het bestand op en open het in de webbrowser via http://localhost/phpinfo.php
Controleer of APC toegevoegd is aan de pagina.