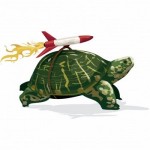 XCache is een opcode cacher. Dit houdt in dat het gegenereerde PHP-code opslaat in het geheugen, zodat deze niet opnieuw geparsed hoeft te worden bij een nieuwe aanvraag.

Installeer XCache als volgt:
aptitude install php5-xcache
Het configuratiebestand van XCache staat in de map /etc/php5/conf.d/xcache.ini
[xcache-common]
;; install as zend extension (recommended), normally "$extension_dir/xcache.so"
zend_extension = /usr/lib/php5/20090626/xcache.so
Zorg dat de XCache extensie als Zend-Extension wordt geladen. Controleer of het bestand ook in de betreffende map staat (/usr/lib/php5/20090626/)
Andere instellingen:
; to disable: xcache.size=0
; to enable : xcache.size=64M etc (any size > 0) and your system mmap allows
xcache.size  =                64M
; set to cpu count (cat /proc/cpuinfo |grep -c processor)
xcache.count =                 4
Hier wordt ingesteld dat XCache 64MB aan geheugen mag gebruiken en dat het 4 processoren tot zijn beschikking heeft (xcache.count = 4).
Sla de wijziging op en herstart Apache om de extensie te laden en de cache te activeren.
service apache2