Als IPv6 nu al was doorgebroken, hadden we ze niet meer nodig, VPN verbindingen en inbel verbindingen. Helaas zijn deze verbindingen nu nog nodig om met een netwerk op afstand te verbinden. In de loop van de jaren heb ik heel wat VPN verbindingen in mijn lijst staan. Dit is erg vervelend als ik achter een nieuwe computer zit. Hier zou ik alle instellingen weer opnieuw moeten doen. Gelukkig is hier een snelle oplossing voor. Met een extra tool is het zelfs mogelijk de wachtwoorden uit te lezen en te kopiëren.
Als je door de loop van de tijd veel VPN connecties hebt verzameld en de gebruikersnaam, wachtwoord en instellingen hebt opgeslagen, is het handig om deze gegevens te exporteren en te importeren op een nadere computer. Aangezien de instellingen zijn opgeslagen typ je ze nooit meer in en vergeet je ze snel.
Hieronder zijn de stappen om je VPN verbindingen op te slaan en te herstellen op een andere computer in Windows.
To backup dial-up connections and VPN settings:
1. Press Win+R to bring up with Run window, type %appdata% and hit Enter.
2. Go to Microsoft > Network > Connections and backup the Pbk folder.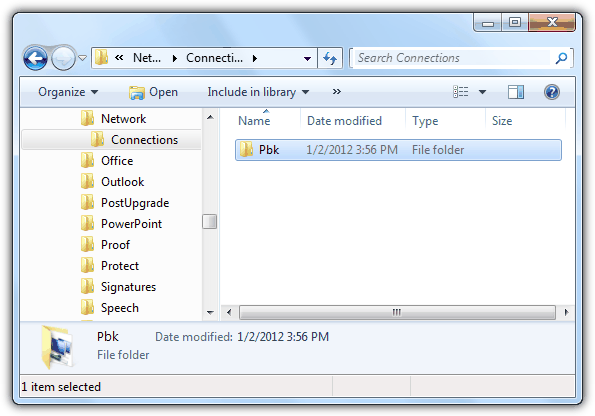 To restore the dial-up connections and VPN settings, simply overwrite the Pbk folder that you've backed up to the existing Pbk folder. Do take note that this will only restore the connection settings without the username and password because the credentials are tied to the unique SID (Security Identifier) and owner on the computer.
Theoretically you can change the SID, computer name, and user account name to match the old one so that the username and password are restored together with the connection settings but I won't recommend you to do that unless you're on a clean Windows. Another problem is a tool developed by Sysinternals called NewSID to change SID does not work on Windows 7. Sysprep only changes to a random SID but does not allow you to specify a SID. Ghost Walker works on Windows 7 but it is only bundled in their Ghost shareware.
What you can do is to use a tool called Dialupass by Nir Sofer to extract the username and password from the rasphone.pbk file and then manually key in the username and password on your connections.