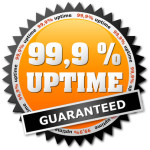 Veel hosters geven hun uptime percentage bij hun producten. Maar hoeveel downtime is dat eigenlijk op jaarbasis?
Hieronder staat een overzicht van alle downtime. Ook is hieronder te zien dat een uptime van 5 negens nagenoeg onmogelijk is. Mocht er meer uptime gewenst zijn, dient dit op een andere manier opgelost te worden, door bijvoorbeeld een website redundant op meerdere servers te hosten.
Het menselijk aspect
Uitval wordt slechts in 20% van de gevallen veroorzaakt door technisch falen. In 80% van de gevallen betreft het menselijke fouten. Een beheerder trekt ergens per ongeluk een verkeerde kabel uit, of geeft een foutief commando. Uiteraard helpt het om goed gekwalificeerde en goed opgeleide systeembeheerders te hebben, die een gezond verantwoordelijkheidsgevoel hebben. Fouten maken is echter menselijk, en er is geen MTBF of MTTR voor te berekenen.
Here is Wikipedia's handy chart of the pursuit of nines:
Interestingly, only 3 of the top 20 websites were able to achieve the mythical 5 nines or 99.999% uptime in 2007. They were Yahoo, AOL, and Comcast. In the first 4 months of 2008, some of the most popular social networks, didn't even come close to that.
From the chart, it should be evident how ridiculous the pursuit of 100% uptime is..